Mikael Nordfors MD, Founder of www.medicdebate.org
Undefined
Mikael Nordfors MD calls himself Independent Health Advisor, and currently working with integrative treatments of cancer, psychiatric problems and various forms of pain all over the world. He is a co-author of the international bestseller " Hypericum & Depression," which introduced the antidepressant St John's Wort to the non - German-speaking part of the world. Besides being in physician and author, he has also composed music and interpreted classical masterpieces on synthesizers. His music can be listened to and downloaded from http://www.lastfm.se and www.spotify.com .
His greatest strength as a physician is his ability to quickly and efficiently go through great amounts of research material and then be able to draw conclusions that can be of direct clinical benefit to his patients. He wants today's medical system to one day to become a true medical science, which is not divided into conventional medicine, alternative medicine, Ayurvedic medicine, Chinese medicine, etc. He tries to use anything that works to help his patients as much as possible, regardless from what medical school it is derived. He is Lyme literate and member of ILADS(International Lyme and Associated Diseases Society), ASCO (American Society for Clinical Oncology) and the German Society for Experience-Based Medicine(Ärstegesellschaft für Erfahrungsheikunde.)

In addition to many years of experience as a physician in general medicine and psychiatry , he has also worked in the private cancer clinic Humlegaarden , where he learned a lot about both conventional and alternative cancer treatments such as high dose ozone treatment, hyperthermia, LDN, DCA, GcMAF, Maf 314 yogurt, Bio - Immune Therapy according to Thomas Tallberg, dendritic cell vaccinations, and treatment with Newcastle Disease Virus ( NDV ) . He also does 10-pass Ozone treatment according to Lahodny, and Deuterium Depletion therapy. He also collaborates with leading clinicians in experimental radiology in both Germany and India. He also co-operates with professor Jevgenij Nazarov in Odessa, Ukraine, and regularly arranges trips to him for patients who wants to have so-called EBOO treatment (Extracorporeal Blood Ozonation and Oxygenation), Hydrogen treatment, DTMS(Deep Transcranial Magnetic Stimulation) and Xenon treatment.
He has for several years studied psychotherapy under personal guidance from Dr. Fred Levenson, author of such book "The causes and prevention of cancer," and the world 's leading specialist in psychotherapy for cancer patients.

He is a licensed LNB pain therapy therapist, a system derived from ancient Greece to treat most pain conditions with specific stretching exercises, pressure points, and general health advice. He has developed a new kind of therapy called Tendon Insertion therapy on the grounds on LNB.
He takes payment according to payment ability and refuses no-one because of economic reasons. He is currently residing in Tanzanua, Africa, but is still working with telephone consultations with patients from all over the world
You can book an appointment by clicking here:
He is the main inventor and founder of Liquid Democracy, or Demosocracy as he prefers to call it, and is the first person in the world who successfully implemented delegated voting in a real political context with his former company Vivarto AB.
He is Co-Founder of "The World Freedom Alliance", "Peoples Court", "World Doctors Alliance" and "Frihet Sverige", which all fights for human rights and medical freedom against the medical tyranny now facing the world through the Covid 19 "Pandemic".
He recently published the book "Spartacus 2.0, How Slavery Started, Still Continues and Can Be Ended" 2021 and "Demosokrati, Spartacus 2,0" in Swedish on Ebes Förlag 2020.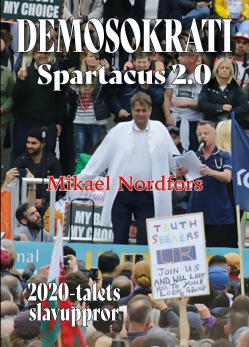 He makes online courses and lectures on his youtube channel:
You can contact him on drnordfors@tutanota.com, or +46 31 7995522